news
INCOGNITO
It was a pleasure to be invited to make and donate a postcard sized art work to the Royal Overseas League's INCOGNITO exhibition. Artists from all over the world make work which is exhibitied anonymously, the artist's identity only being revealed after a sale. The proceeds go towards funding their educational projects in marginalised areas of India, Pakistan and Namibia, with a focus on work with girls in rural areas. So it was satisifying to see that my new screenprint LOOK sold at the opening.
More details
here
THE DISCERNING EYE 2018
I am delighted to say that two of my recent screen prints,
IMMORTALS
and
WORLD ENOUGH AND TIME
have been accepted for The Discerning Eye, an exhibition which takes place annually at the Mall Galleries in central London.
Around half of the works in the exhibition are chosen by individual jurors from an open submission of around two thousand entries. The remaining work is by artists who are invited by the jurors.
The exhibition will run from 15th-25th November. Further details to follow.
MEMORY - AN EXHIBITION IN MAYFAIR BY THE UK PRINTMAKERS' COUNCIL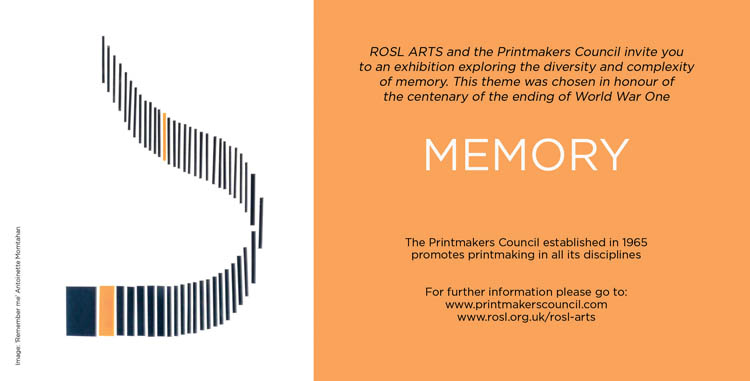 One of my new screen prints
IMMORTALS
will shortly appear in an exhibition by members of the UK Printmakers' Council. The Council invited members to submit work in a variety of print media around the theme of MEMORY in any of it's aspects: family history, the workings of the subconscious, personal past experiences, objects holding pivotal thoughts or places holding a special association.
The exhibition is being presented in partnership with the visual arts team at the Royal Over-Seas League and will be held at their grand and elegant London club house in near Green Park. The League is 'a not-for-profit members' club dedicated to championing international friendship and understanding throughout the Commonwealth and beyond'. In 2018 it is honouring the centenary of the First World War with a programme of events including this exhibition and a series of concerts.
Work by more than 60 artists will be on display in various rooms and spaces throughout the building. So it will be a large and varied exhibition in a spectacular setting.
There is a PV on 28th August and an evening of art discussion with exhibiting artists present on 22nd November.
If you would like to attend the PV, please RSVP via the ROSL website: www.rosl.org.uk/events