news
Another opening of another other show...
Image shows a section of my new print LONDON OVERGROUND II
A very exciting opportunity has just come my way. The team at the lovely One Paved Court Gallery in Richmond-upon-Thames have invited me to take part in their Christmas Print Show. I can't think of a better way to end the year.
It features, in their words:
'a selection of work from some of the best established and emerging artists who work in print, the exhibition will include a range of traditional and experimental printmaking techniques.'
Some of the participants are artists whose work I have admired for years, so it is a real thrill to be returning to this beautiful gallery in their company. They are: Irene Burkhard, Ellie Hayward, Wuon-Gean Ho, Adam Hogarth Peg Morris, Richard Peacock, Peter S Smith
You can find images of work and information about the artists on the gallery website. You are warmly invited to the PV on 1st December. Please check my Instagram feed for the times nearer the day The exhibition is on from 1st-23rd December and I will be invigilating for a few days here and there, so again keep an eye on my Instagram feed if you would like to come along then.
Link
One Paved Court
Christmas Print Show 2023
1 – 23 Dec 2023
PV Friday 1st December
Wednesday – Sunday*
12.00 – 5.00pm
*Open at other times by appointment.
1 Paved Court
Richmond
TW9 1LZ
My new screenprint FISHING MACHINE No.1 has been selected for an exhibition at the Emma Mason Gallery in Eastbourne. The gallery specialises in work by British Printmakers,
This exhibition features prints made by current members of the Printmakers Council in response to works by founding members. The gallery say 'The aim is to show how print has changed and developed over the last century.'
The PmC are posting some of the works on their Instagram feed, and it looks very impressive.
My print, FISHING MACHINE NO.1 was inspired by two things - the trabocchi fishing machines scattered along the coast of Puglia and Abruzzo in Italy, and the stuning abstract lithograph by Stanley Jones, Essex Landscape. His work gave me the key to evoking the coastal setting of the machine without becoming too literal.
The exhibtion opens on Saturday 7th October and runs to 4th November.
EMMA MASON GALLERY
21 Lushington Lane, Eastbourne, East Sussex, BN21 4LJ
Open Thursday, Friday, Saturday 10am-4pm.
More information
here
BLUE DIVERS
Screenprint and screen monoprint
26cm x 40cm
Variable Edition of 10
£295 framed
£225 unframed
To get 2023 up and running, I have a new screenprint in an unusual exhibition called 'Thinking for Printing' at the Bankside Gallery, alongside Tate Modern.
The exhibition will showcase work by around a hundred members of the Printmakers Council.
We were each sent a sketchbook to use while developing new work. These will be exhibited alongside the selected framed prints, giving an insight into our working processes and showing how our ideas evolved.
Over on Instagram, using the hashtag #thinkingforprinting, you can see a preview of some of the stunning work and sketchbooks which will be in the show. And on my own Instagram page
here
you can find a short film showing some of the stages involved in making BLUE DIVERS, and another featuring some of my own sketchbook pages.
Please note, the exhibition is on for just six days. See below for details.
A word to the wise: the PV is likely to be very busy - so if you want time to browse the 120 odd prints plus all the sketchbooks, my tip would be to visit during the week.
THINKING FOR PRINTING
31st January to 5th February 2023
11am-6pm
PV 31st January
6-8.30pm
Bankside Gallery
Thames Riverside
48 Hopton Street
London SE1 9JH
TWO NEW EXHIBITIONS
There is a burst of frenetic art activity everywhere this autumn – everyone seems to be making up for lost time. I am pleased to report that I have work in two exhibitions in the coming weeks.
I am delighted that the film director Gurinder Chada (Bend it like Beckham, Bhaji on the Beach) has selected my screenprint TATE MODERN, AFTERNOON for the
2022 ING Discerning Eye exhibition.
For this national, open exhibition, work is independently selected by six prominent figures from different areas of the art world: two artists, two collectors and two critics. It includes paintings, prints and sculpture. Each section is hung separately to give each its own distinctive identity. The selectors also get to invite artists of their choice to show work – so competition for the open submission is fierce. There is always a broad variety of work of very high quality.
This will be the fourth time for me – my work was previously selected by Tabish Khan, aka @londonartcritic, and by Cherie Federico, editor of Aesthetica Magazine, as well as by the actor Larry Lamb.
The exhibition opens at the Mall Galleries in London from Friday 11 - Sunday 20 November 2022
Entry is free. All work is for sale.
Find out more
here
Instagram @ingdiscerningeye
Facebook INGDiscerningEye
Winter Window II Screenprint and screen monoprint
I am also very pleased that WINTER WINDOW II will be featuring in a Printmakers' Council exhibition, Surface and Depth, at Mandell's Gallery in Norwich's cathedral quarter.
It features work by council members, and having seen the list of artists exhibiting, it should be interesting and varied.
This exhibition opens on Saturday 29th October, with an opening event between 12 and 3pm, and closes on 19th November. Hours are 10am-5pm.
More information at www.mandellsgallery.co.uk
ARTIST IN FOCUS 25TH JULY – 7TH AUGUST 2022
SOUTHBANK PRINTMAKERS GALLERY
SUNSET DIVER I
After a quiet couple of months in the studio, I am pleased to announce that I will soon be the featured artist at Southbank Printmakers Gallery.
For two weeks, from 25th July to 7th August, there will be a window display of my framed work, and a browser bringing a selection of my mounted work together, as well as the usual range of my cards – including several new cards featuring recent work.
I will have two new series of hybrid prints on display; DIVER and SUNSET DIVER.
They are a further exploration of liminal states. This time it is a very playful, uplifting take on the theme, as befits the times.
One of these series involves a monoprint/screenprint combination. I have been enjoying expanding the range with this technique and playing with the interaction of ink and paper surface.
The other series, by contrast, is my first experience of combining monoprint with polyester plate lithography. It makes for an interesting comparison. You can see both in the
liminal
gallery on this site.
Or you can come and visit
Southbank Printmakers Gallery
at Gabriel's Wharf on London's Southbank and see the real things. We are just on the river between the Southbank Centre and Tate Modern
.
MEET THE ARTIST
On Thursday 4th August, I will be there myself for a MEET THE ARTIST session from 5.30pm to 7.30pm. Light refreshments will be available. It's a wonderful place to have an evening stroll, browse the gallery and visit the shops and cafes on the Wharf.
LINDEN HALL STUDIO
I was delighted that a print from my series BY THE WHARF was selected for the UK Printmakers Council exhibition
THE PULL OF THE PRINT
at this lovely gallery in Deal, Kent.
It is an elegant space and the exhibition was beautifully curated.
It was good to be at the well-attended opening, and I was pleased to hear about the sale of my print, among many others.
There are a couple of prints left from this series and they will be on display during my Artist in Focus at Southbank Printmakers in July.
SOUTHBANK PRINTMAKERS @21
EXHIBITION AT LONDON'S OXO TOWER
SOUTHBANK PRINTMAKERS are celebrating 21 years on London's Southbank with an exciting exhibition at the Oxo Tower Gallery.
The exhibition opens on Wednesday 15th December and runs until Sunday 2nd January 2022. Hours are 11am-6pm, and admission is free.
30 printmakers will be showing work, including some of our newest members .
I will have a range of prints in the exhibition, including my new screenprint TATE MODERN, AFTERNOON.
More details soon.
ING DISCERNING EXHIBITION 2020
JOURNEY HOME
Monoprint and archival inkjet.
H190mm x W277mm
I am delighted to say that my print JOURNEY HOME has been selected for the 2020 ING Discerning Eye exhibition by art critic Tabish Khan aka @LondonArtCritic.
The exhibition, a national open competition, is normally held in the Mall Galleries in central London, but this year it is entirely online, and is available to view now at
indeexhibition.org
until 31st December.
I am very pleased to have work selected for the exhibition for the third time since 2015.
Inspired by a winter train journey down the east coast of Britain, this image is part of an ongoing series featuring liminal spaces and situations in which our everyday lives are suspended for a while.
Prints from the edition also featured in the Printmakers Council's exhibition JOURNEYS, which toured to London, Portsmouth and Chichester in 2019, and in their deposition of work with the Scarborough Art Gallery.
The print is also available from my online
shop
.
Coming up: When Southbank Printmakers Gallery reopens after lockdown, I will shortly afterwards become the gallery's Artist in Focus for a period of two weeks.
More details on that soon.
BEYOND LANDSCAPE - an exhibition at One Paved Court Gallery
In November 2019 I will be exhibiting a range of new work together with painter and filmmaker Deborah Burnstone, at One Paved Court gallery in Richmond, Surrey.
Deborah I share an interest in how individuals seek out and interact with particular landscapes.
My work encompasses printmaking, painting and mixed media works involving both. I am intrigued by the way we seek out places which allow us to escape for a while from daily life with its schedules, concerns and demands, and even from ourselves for a while. Subjects include train and road journeys and people in public spaces.
Deborah explores places at the edges of human settlement; stretches of road at night, the coast, the riverbank. In her paintings and videos people gaze out to sea and wander the landscape. Her videos interweave sound, voice, stories, time and place and are made from spontaneous encounters with people and place.
We are both delighted that One Paved Court is hosting the exhibition. The gallery is in the heart of Richmond and close to the river Thames.
The private view is by invitation only. If you would like to attend, please rsvp to: rsvp@onepavedcourt.co.uk
The exhibition opens on Wednesday the 13th of November and closes on Sunday the 24th of November. Opening hours are Wednesday-Sunday 12-5pm.
On Saturday the 23rd of November at 2:30 p.m. Deborah and I will be giving a short talk on themes and process. Everyone is welcome to that with no need to rsvp. The exhibition will be open as usual during the talk.
Either Deborah or I will be there each day during the exhibition.
There are further images and more information
here
SOUTHBANK PRINTMAKERS GALLERY
I am delighted to announce that in July 2019 I will be joining
Southbank Printmakers
, a gallery situated in Gabriel's Wharf alongside the river Thames, close to Tate Modern and the Southbank Centre. The gallery is a co-operative of around forty artists. New members are elected following the submission of a portfolio of work. All prints at Southbank Gallery are original limited editions, and a wide variety of styles and techniques are featured.
From July 2019 a selection of my limited edition prints will be available, and a range of my cards.
The gallery is staffed by the artists and I will be there every five weeks or so – dates will be posted on Instagram and Twitter.
My new limited edition mini screen print FOUNTAIN I was inspired by the summer fountains at the Royal Festival Hall. It featured in the Southbank Printmakers mini print exhibition in May 2019, and will be available permanently there from July.
LATER THIS YEAR…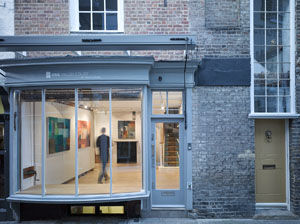 Photo by Nick Guttridge
In November 2019, I will be exhibiting a range of work with fellow artist Deborah Burnstone at
ONE PAVED COURT
in Richmond, Surrey. This beautiful gallery was established by a group of artists and architects to create a space where they can offer ' an exciting programme of innovative, serious and stimulating work, and the opportunity to engage directly with artists working in a range of media'. Deborah and I will be showing paintings, prints and video exploring the resonance of urban, edgeland and other liminal places. More details to come about this later in the year.
And finally
,,,
My screen print
FLOAT
, which has entered the Victoria and Albert museum archive as part of a box set by members of the UK Printmakers Council, is also featuring in an exhibition of those mini prints at Scarborough Art Gallery, until 9th September 2019.
THE DISCERNING EYE 2018
I am delighted to say that two of my recent screen prints,
IMMORTALS
and
WORLD ENOUGH AND TIME
have been accepted for The Discerning Eye, an exhibition which takes place annually at the Mall Galleries in central London.
Around half of the works in the exhibition are chosen by individual jurors from an open submission of around two thousand entries. The remaining work is by artists who are invited by the jurors. The exhibition will run from 15th-25th November.